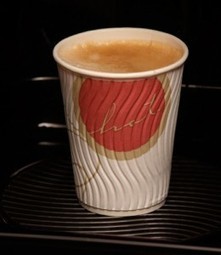 Disposable packaging manufacturer Huhtamaki UK has launched the UK's first double wall paper vending cup, an industry first innovation in hot drink.
This new development sets a benchmark for the future of coffee vending and signifies the commitment that the industry is taking towards providing a coffee shop experience for consumers away from the high street.
Not a long time ago we wrote about these vending cups. Less than two months have passed and we have them available in the UK. As we've mentioned in the previous post, these vending cups, while providing better insulation, are also harder to recycle. So that's a step towards comfort, but a step back from sustaining our environment.
But what else could the vendors do, seeing such a competition from all these trendy coffee shops?
Seen on www.auto-vending.co.uk
Share this